Let us share our knowledge and experience to you
REDcatch offers a wide range of seminars covering topics such as 3D modelling, photogrammetry processing, editing pointclouds and output production. We guide you through the best workflows and most up to date content, prepared by our experts, including traditional instruction as well as practical activities.
Visit us in our training room in Fulpmes/Austria, book an onine-Seminar or invite us to visit your office!
PHOTOGRAMMETRY – Beginners
With theory and practice, we can quickly get you to the point of using photogrammetry effectively and economically in professional applications. Whether you are taking photos with your new drone, or use a hand-held camera for capturing facades, we can show you everything you need for everyday projects, in a 2-3 day seminar. Included in this are subjects such as the image recording strategy, geo-referencing with control points or an RTK/PPK system, the selection and operation of software, and data transfer and editing for your other CAD and GIS software products.
Would you like to get more out of your data? Are you unsure if the results are accurate? Is your photogrammetry workflow or processing too slow? Together we can find solutions and exploit the full potential of your photogrammetry software. Point-cloud classification, orthophoto enhancement, and accuracy and quality assessment are covered, as well as flight planning and recording strategy, camera settings, and anything else that may help to optimise your work. The content is tailored to your needs!
As a distributor of Agisoft Metashape, we provide training and support for this software package. Ask for either group or individual training. We integrate the software into your full project workflow, allowing you to get the most out of your data.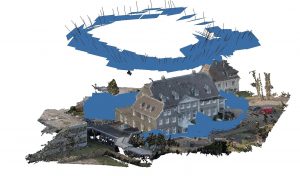 We have a wealth of experience working with Pix4D Mapper. While we have no direct relationship with the company, we are happy to pass on our knowledge as experienced users of the software. Whether you want to use manual tie points, create orthoviews in different planes or just learn about the overall workflow, please contact our team to discuss what we can offer.

Many people simply use CloudCompare as viewer, which is really a pity, because this wonderful software has many powerful features which you you will quickly appreciate in your daily tasks. We are happy to train you in point cloud filtering and classification, producing terrain models (DTM), multi-temporal point cloud analysis, rendering, producing videos and more.

QGIS - A Free and Open Source Geographic Information System
Do you want to create PDF plans and maps of your results? QGIS is an open source geographic information system (GIS) with which you can perform everything from forrestry analysis to volume calculations, and export the results with a title block, captions and a north arrow. We provide training tailored to your needs and empower you to deliver results to your customers.

We offer customize seminars with a program fully adapted to your needs regarding different topics: Agisoft, Pix4d, Cloudcompare, QGIS and many many more!
Contact us for more training offers