This tool combines a GNSS receiver and an IMU in a camera attachment for short-range photogrammetry. Achieve precise georeferencing without control points, and accurately document natural and man-made assets and infrastructure.
GNSS upgrade for your camera
With the latest support of GPS, GLONASS, Beidou, Galileo multiband and multiconstellation receipt you get the best accuracy experience.
The device is ready to be used with RTK (RTCM) correction data to receive centimeter (cm) accuracies. In addition to this, RINEX data are stored for later GNSS postprocessing with additional base station data
With a latest mems IMU (9DOF) on board, the device saves the solid angles for every image taken
Precise GNSS positioning upgrade for your camera. Easy do use and attachable on existing high professional cameras eg. Nikon, Olympus, Fuji, Sony, etc. (TM)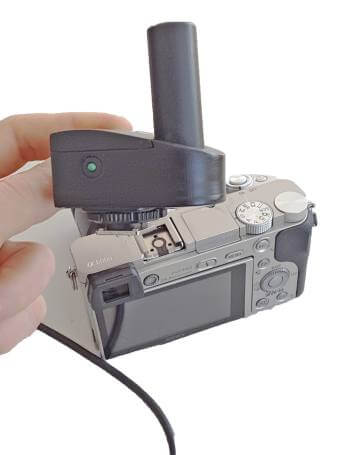 Pricing - Get your device based on the accuracy you need
2cm accuracy
L1, L2, e5b bands
GPS, GLONASS, Galileo, Beidou – Multikonstellation
L1, L2, e5b – Multiband
RTK (Realtime Kinematics) support
WLAN to receive RTCM correction data via Smartphone
PPK (Postprocessing Kinematics) support
Saves RINEX and NMEA
0.2° absolut IMU (roll, pitch, yaw)
REDtoolbox lifetime version included
Transport case, charger and cable
RTK/PPK:      2cm +1 ppm
IMU:      0.2° roll pitch yaw
1.5 hours training and support

free shipping in EU countries
Try before buy!
One month's rent – The perfect opportunity for those who want to test the suitability of the ImageVector before buying. First try the device on our own practice projects, test the internal workflow and the interaction with your existing software, and then use it for the rest of the rental period as a daily work tool.
Rent for your project
Do you have a stand-alone photogrammetry project that will only run for a sort time? Simply rent our hardware for the period of data collection and avoid making an expensive purchase that you would only use once. After the completion of your project, simply send the ImageVector back again, or if you decide you want to keep it, you can purchase it at a discount totalling 50% of the rental fee.
Can I purchase the 3D ImageVector after rental?
You can opt to purchase the 3D ImageVector after your rental period. In this case, you will receive a discount totaling 50% of your rental fee.
How do I proceed with rental?
Once you have decided to rent an ImageVector and submitted the order form, we will contact you to agree on all the necessary details, such as scheduling, payment and support.
Who is using 3D ImageVector?
GNSS and IMU information can be used by a various of applications and processing steps. Read further to get impressions.
Capture sites in 3d and do the image documentation in only one single step. Within minutes you are done with the field work and have everything to continue your work and process and finalize your work in the office.
Use the 3D ImageVector camera add-on to receive direct georeferenced images to derive accurate 3d models from photogrammetry. Capture the outside of the building in minutes and get point clouds in centimetre accuracy. Compatible to any photogrammetry software the resulting point cloud can be used in Autodesk Revit, ArchiCAD, etc.
Monitoring Coastal Erosion
Coastal erosion is hard to monitor as areas are often non accessible. The 3D ImageVector enalbes you to derive direct-georeferenced photogrammetric pointclouds from terrestrial images. Whether they are taken from beach or boat, you will receive accurate 3d models.
Get the most out of your images and document damages to road surfaces, inventory your road markings and edges. Derive true to scale and georeferenced 3d pointclouds, DEMs, orthophotos and meshes without using ground control points (GCPs).
The 3D ImageVector is a great tool for 3D modelling, but it also has other uses, as illustrated by this example. Here we have used it to document hundreds of trees along the median strip of an Alee. By accurately geotagging the location and orientation of each image, we ensure that similar looking trees can be easily distinguished from each other.

UAV Pilots for terrestrial images